Interactive team experience: learning about new digital technologies and concepts »hands on«

Complex web of puzzles and riddles
Which innovative technologies are finding their way into companies and supply chains? How can they enrich our value creation, change our business models and what potentials arise for our processes and collaboration in networks? In the Escape Room, these questions are interwoven in a complex web of puzzles and riddles that not only require the group's communication skills, but also dedicated teamwork and a goal-oriented approach. With our Escape Room, we bring digital technologies and new concepts to life »hands on« under the guiding principle of managing digital transformation, focusing on an interactive group experience.
The Escape Room is realized in the premises of the Institute Department of Corporate Logistics at Fraunhofer IML in Dortmund.
The Escape Room is aimed at …
… technology enthusiasts,
… who want to harness the potential of innovative and digital technologies in the context of logistics and supply chain management.
The Escape Room can be used in many ways – as a team event of companies and departments as well as a component of topic-specific workshops with our domain experts from logistics and supply chain management. The needs-based configuration of the Escape Room through our adaptive modules to company-specific requirements is also part of our portfolio of services. Last but not least, the Escape Room has been created as an excellent, inspiring learning space, which is used as the didactic focal point of our continuing education offering for the management of digital transformation.

A wealth of interactive hardware and software
The Escape Room is equipped with a wealth of interactive hardware and software, allowing for the incorporation of visual, haptic and virtual puzzle strands for an immersive team experience:
multi-touch tables
touch monitors on the walls
digital projection screens
3D printers
augmented and virtual reality
blockchain technology
Based on the innovative technologies and demonstrators from research and development projects, the Escape Room inseparably links the latest technologies for digitalization and autonomization in logistics and supply chain management with the interdisciplinary demand for digital transformation management.

++ The Escape Room was awarded »inspiring learning place« by the Fraunhofer Academy. ++ ++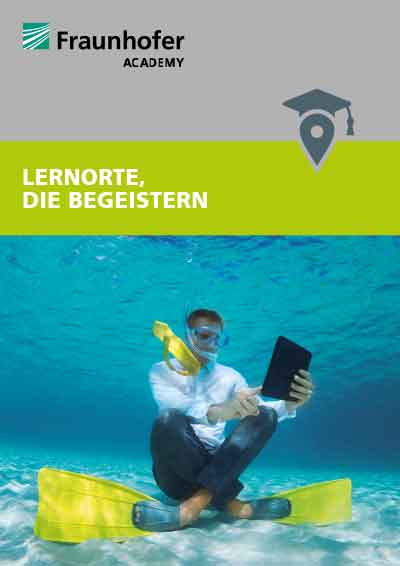 Brochure »Learning sites that inspire«
Publication of the Fraunhofer Academy, PDF, 5.8 MB
Download